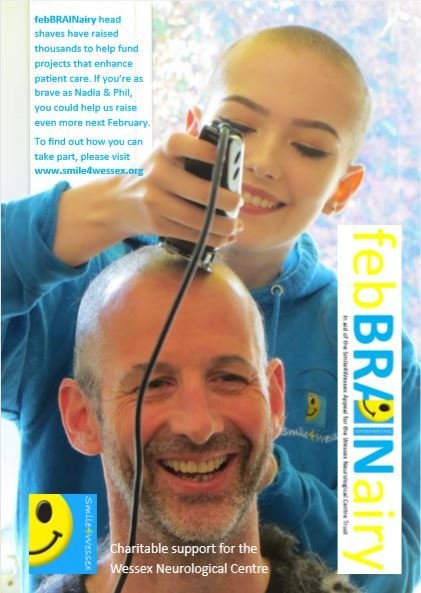 IS YOUR LOCKDOWN HAIR GETTING THE BETTER OF YOU? THEN WHY NOT BRAVE THE SHAVE FOR FebBRAINairy 2021?
As we approach February, this is your chance to make the most of lockdown and show your support for those having their heads shaved for brain surgery!
With most of us in dire need of a haircut, and salons closed, this is the perfect home solution to those bad hair days, whilst raising funds and awareness for the Wessex Neurological Centre.
FebBRAINairy head shaves have raised in excess of £15,000 over the last 4 years to help fund projects that enhance patient care, and with very few fundraising opportunities at present, we would love you to help us add to that in 2021.
To show our appreciation, everyone who raises £500 or more will receive a FREE ticket to the 2021 Smile4Wessex Gala Dinner.
So, if you're FebBRAINairy ready, please drop an email to info@smile4wessex.org and we'll explain more about taking part and how your support will help.
All you need is a head of hair, some clippers and a woolly hat to keep you warm!