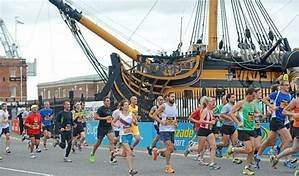 Looking for a new challenge next year? Then why not sign up for the 2023 Great South Run on Sunday 15th October and raise money for Smile4Wessex and the Wessex Neurological Centre!
Whether you're a novice taking on your first challenge or an experienced runner, The Great South Run is the perfect challenge!
If you are still considering taking on the worlds leading 10 mile race or have already booked your place, we would love you to join our team and be wearing a Smile4Wessex vest as you join 20,000 other runners along this famous route.
Starting on Clarence Esplanade in Southsea, the fast and flat course takes you through Old Portsmouth, home of the Portsmouth Cathedral, before entering the Historic Dockyard, home of HMS Victory, past Spinnaker Tower, and finishing on the seafront with beautiful views of the Isle of Wight.
The course is steeped in history dating as far back as 1212 and features bands on the run and unrivalled support from local residents and spectators.
Please contact kathryng@smile4wessex.org to confirm you intend to run for Smile4Wessex and we can support you with fundraising, sponsor forms and a running vest and our spectator team will be there to cheer you on, on the day.
To book your place please visit; http://www.greatrun.org/great-south-run
There is still plenty of time left to train …. so dust off the trainer's, bag yourself a S4W vest and we'll see you at the start line!