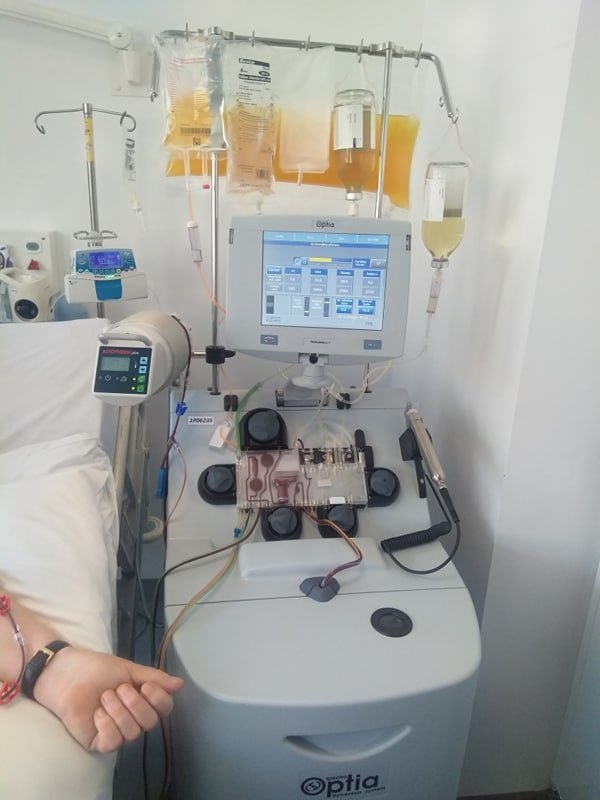 Throughout the Covid-19 pandemic, there has been vast research and numerous clinical trials across the UK to find potential treatments to benefit those worst affected and hospitalised by the virus.
One such treatment is the use of plasma, and we were really excited to learn that the Spectra Optia (plasma therapy) machine, purchased through our most recent Smile4Wessex fundraising appeal has been used to treat a patient at the centre, who was suffering ongoing Covid-19 symptoms.
Consultant Neurologist, Dr Ashwin Pinto initially proposed the Plasma Exchange project, as he believed it would be a vital addition to the unit, to treat patients suffering from the debilitating symptoms associated with a number of rare neurological disorders. However, he did not foresee that he would be using the equipment to treat patients through a worldwide coronavirus pandemic.
Below Dr Pinto explains how this life changing piece of equipment helped one of his patients:
"The patient presented a week after minor COVID-19 symptoms with rapid onset of weakness in the right arm and leg, together with great difficulty with speech. Within a few days, the patient had almost no movement in the right arm and right leg and was hardly able to speak at all. We prescribed treatment with intravenous steroids and then started the plasma exchange. The patient responded extremely quickly to treatment, and ten days after starting treatment, had good strength in her right arm and leg, had mostly recovered speech and was fit for discharge. At last review, the patient was well with only minimal neurological symptoms"
The NHS are running clinical trials, where plasma is taken from recovered Covid-19 patients, whose immune systems have produced antibodies in fighting the virus. This plasma is then be transfused to patients whose immune systems are struggling to develop their own antibodies. More information can by found HERE
Please see PDF below for Dr Pinto's full article about this unusual case, recently published in a neurology journal.