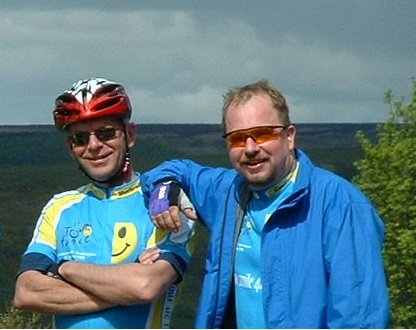 On Saturday 7th May 2005 a group of five friends left Middlesbrough's Riverside Stadium to cycle a six day, 390-mile route back to Southampton. Dubbed the 'Tour De Farce', the event raised £10,000 for the Smile4Rich Ambulance Appeal. Now, 15 years later, two of the team are getting together under lockdown (albeit virtually), but the 2020 sequel will be a very different 'tour'.
In the intervening years, Frank Cousins, an avid Saints fan and keen cyclist, moved to Scotland where he continued to cycle regularly until a year ago. In contrast, recently retired Smile4Wessex Appeals Director and lifelong Pompey fan, Neil Westbrook, had until two weeks ago cycled less than 50 miles in 15 years.
This time Neil plans to cycle to Middlesbrough and back, a total of 780 miles (1,255 km), albeit without leaving home (he'll be riding his bike on a turbo trainer). "My wife is one of those 'shielding' from Covid-19, so we're locked down for at least 12 weeks. I needed something to give me a goal to aim for and, with the anniversary of the ride coming up, this seemed the obvious choice."
Meanwhile, Frank will be aiming to ride 1,000 km (621 miles) on his local roads, the equivalent of riding from his home in Scotland to Southampton (via Middlesbrough) and hoping to cover that distance by the end of May. "We've talked about doing something again, but life kept getting in the way. But charities are really suffering at present so when Neil got in touch it was just the motivation I needed to get back in the saddle".
Being both friends and football rivals, needless to say there's an added edge to their respective challenges, with each determined to be first to finish. But whatever the result, they want the real winner to be Smile4Wessex so both Neil and Frank would be extremely grateful for your support and encouragement - as indeed will everyone at the Wessex Neurological Centre.
To pledge your support and follow their progress, please visit https://uk.virginmoneygiving.com/Team/TdFSequel