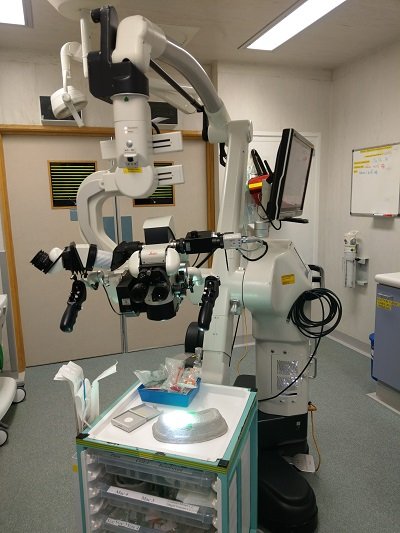 In 2011 the Wessex Neurological Centre became the first centre in the UK to install a new generation of neurosurgical operating microscope, equipped with revolutionary fluorescence imaging technology.
The Leica M720/OH5, purchased following a successful Smile4Wessex appeal raised the near £200,000 needed, is one of the most advanced neurosurgical operating microscopes available, thanks in part to its unique Horizontal Optics Technology. Offering significant improvement in surgeon comfort, Horizontal Optics also provide a substantial gain in free working distance for both cranial and spinal cases, allowing unobstructed access to the surgical area. But it's the inclusion of both FL400 and FL800 Fluorescence Imaging Technology which turns this particular 'scope into a truly cutting-edge addition to the already impressive array of specialist medical kit in use at the Centre.
Under FL800 Near-Infra-Red (NIR) light, a harmless dye injected into the patient's bloodstream during surgery fluoresces in such a way as to enable the surgeon to clearly visualise blood-flow in brain tissue surrounding the surgical area. FL800 Fluorescence imaging makes it possible for even small arteries and veins to be visualised through the optics of the Leica M720/OH5, or displayed on the high-definition screen mounted on the unit. This ability to monitor real-time blood-flow in tissue and vessels during surgery can lead to reductions in the duration of surgical procedures and improved surgical outcomes for patients.
The FL400 module again reacts to a dye ingested by the patient, but in this case it is cancerous cells in particular grades of brain or spinal tumours that are affected. Under the FL400 fluorescent light, the cancerous cells glow, making it far easier for the surgeon to distinguish good tissue from that which needs to be removed, leading to greatly improved resection success, which in turn reduces re-growth rates.
The new microscope offers a number of additional features, including full High-Definition recording of the images the surgeon sees through the optics – particularly useful for reviewing the procedure post-operatively, and in the training of the next generation of neurosurgeons. Consultant Neurosurgeons at the WNC, such as Mr Owen Sparrow FRCS, are understandably delighted to have the use of this technology. "The Leica M720/OH5 offers numerous advantages over previous generations of operating microscopes, but the addition of FL800 Fluorescence Imaging brings the prospect of a quantum leap in the real-time information available to surgeons" comments Mr Sparrow. "This in turn promises significant benefits for our patients - benefits which would not have been possible but for the phenomenal support generated via the Smile4Wessex Appeal."
To read more about the revolutionary Leica Microscope, please click on the PDF below: