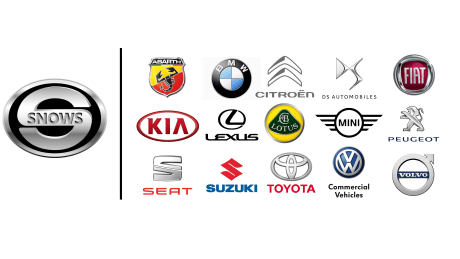 Looking for a new car from a reputable dealer group? With over thirty dealerships across the Wessex region, Snows Group represents thirteen different brands, including BMW; Citroën; DS; KIA; Lexus; Lotus; MINI; Peugeot; SEAT; Suzuki; Toyota; Volvo; and Volkswagen Commercial Vehicles. With so much to choose from, you can now find your dream vehicle whilst supporting Smile4Wessex.
It's easy; simply download the voucher and take it with you to any of the Snows Group sites. Fill it in with your Sales Executive and they will donate £100 when you buy any new car or light commercial vehicle, or £50 when you buy a vehicle through any of their eight Too Good To Auction sites or Snows Leasing.
So take a look at the list of dealerships below, and when you treat yourself to a car or light commercial vehicle, please remember to print and take your voucher along to the showroom. The charity could gain up to £100!
To download your voucher please click the link below.
To find your nearest Snows Group dealership, please click on the links below.
Volkswagen Commercial Vehicles