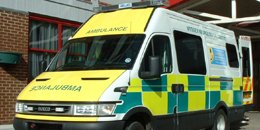 There was a time when recovering patients awaiting transfer from the WNC back to their 'home' hospital elsewhere in the region did just that - wait - due simply to the lack of an appropriate vehicle.
That all changed with the introduction of the Smile4Rich Ambulance. Built as a dedicated resource for the WNC by WAS Vehicles, the Ambulance was entirely funded by the Smile4Rich Appeal, which raised £80,000 in a little over 18 months. It went into operational service in early March 2007 and has since carried well over 3,000 patients.
Lead Transfer Technician, Neil Johnson, explained how the new vehicle has exceeded all expectations. "Firstly, having our own vehicle meant that patient transfers could take place in a timely fashion. We estimate that the Centre was losing around 70 bed days per month through delays in repatriating patients, which in turn led to delays in admitting other patients in need of the WNC's specialist services. Secondly, because the ambulance was designed and equipped specifically to carry patients with neuro conditions, the needs of those patients are not compromised and the crews accompanying them have everything they need to deal with any situation that may arise during a transfer.
"However, whilst repatriations to referring hospitals still account for most of the vehicle's use, around 15% of its journeys have involve retrievals - collecting critically ill or injured patients from referring hospitals elsewhere in the region – and bringing them safely and speedily to the WNC for the specialist care they need."