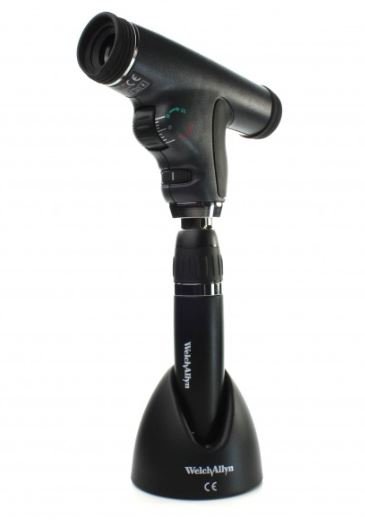 In addition to completing our fundraising appeal for the Spectra Optia (Plasma Exchange) Machine last year, we were pleased to be able to fund a number of smaller projects for the Wessex Neurological Centre. One of these such projects was the purchase of two Panoptic Ophthalmoscopes.
Examination of the eye (fundoscopy) is a key component for a number of neurological diseases. This has traditionally been performed using a handheld ophthalmoscope. It is a difficult piece of equipment to master and can be uncomfortable for the patient as it requires them to keep their eyes very still while a bright light is shone into the back of the eye, and it is necessary for the examiner and patient to have their faces in very close proximity. There is also no way of recording the images seen by the examiner.
The Panoptic Ophthalmoscope provides fantastic images of the retina and has the ability to transfer images to the patient's record, providing much improved training and documentation. The patient benefits from increased accuracy, ease and comfort during the examination. This equipment can be used to benefit a wide range of patients, both in emergency and elective settings and can be used in the diagnosis of numerous conditions, including hydrocephalus, brain tumours and subarachnoid haemorrhage.
Having purchased two Panoptic Ophthalmoscopes towards the end of last year, we were delighted to hear from Mr Benjamin Gaastra how these items are already benefiting so many;
The panoptic ophthalmoscopes are an excellent tool. They are in the neurosurgical department and are being used regularly as part of our clinical assessment of both outpatients and inpatients.

They have been especially useful during the COVID-19 period as we have had less access to our normal ophthalmology services. They have certainly been integral in managing a number of patients and the information they help provide has influenced management.

We have been able to upload images generated to the clinical records of patients which will be very useful for comparing in the future. The neurologists have also been using them and have also found them very useful.
It is only possible to fund projects such as this thanks to the continued support of our wonderful Smile4Wessex supporters.
To learn about some of our previous projects, please click HERE